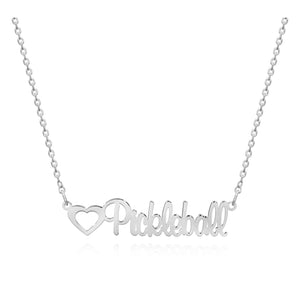 Pickleball Necklace | Cursive Script Sterling Silver
Regular price
$39.99
$39.99
**In Stock**
Show your Pickleball passion with our Sterling Silver Script Pickleball Necklace. It's Rhodium plated to enhance luster and reduce scratching and tarnishing. Comes on a 16" cable chain. Item is 33mm (1 5/16") wide. The Overall length is 17 1/2". Made in the USA with precision laser cutting. Each piece of our Pickleball Jewelry is hand polished to a beautiful finish.
Metal: .925 Sterling Silver
Chain Style: Cable
Chain Length: 16
Chain Diameter: 1.25mm
Made in the USA

This product is an original design by Crosscourt Jewelry and is protected from copy or use without written consent by U.S. Copyright Laws.
---
You might also like